Have you ever thought about spray painting your boring old white plastic table fan? I got the idea in my head this week, but when I looked at all the different moving parts, I wasn't so sure it was a good idea.
Of course, I did it anyway, but if it hadn't worked out, Chris would have been pretty annoyed with me. That's his beloved bedside fan.
Look how pretty, though! I think even if it didn't work, it still would have been the right call. That's just me though. I'm always cold anyway.
Of course it doesn't look vintage or anything, but it certainly looks more vintagey than before.
It also looks good in my front hall, which is irrelevant because, like I said, this is a bedside fan. Still, good to know.
Here's how I did it!
1) I unhinged the clips that were holding on the front of the cage and removed the cage.
2) I unscrewed the cap that was holding on the fan blades, then removed the blades.
3) I taped up the stick type thing (technical term) that the fan blades were sitting on and I took care to cover the hole that the stick type thing was coming out of with tape too so no paint would get into the innards of the fan.
4) I stuck the cord into a plastic bag and pulled it back a bit and just taped a few inches of the cord so I'd be able to spray paint around it.
Then I got to paintin'!
Funny story: I asked Kennedy to take my "before" pictures for me so that she would feel like this was fun and not just me forcing her to wait to play while I do yet another boring project. She kept playing around with the camera while I was working.
When we went back inside later to look at the photos, I found these little "extra" shots that she'd taken without my knowing!
That last one is the best. The wind blew the fan over on me and I used my cat-like reflexes to catch it. I'm like the spray painting ninja or something in that one!
A few light coats later and I had a pretty slick looking fan! I'm pretty sure the light coats are the key to not gumming up the works. I know you're supposed to do several lights coats whenever you spray paint, but I really don't. If I can do it in one big goopy coat and get away with it, I will. I was good this time though.
I painted over the number settings on the buttons, but I think we'll be able to figure it out. We're smart people like that around here.
I'm pretty pleased with it overall and I'm glad to have discovered this quick and easy little DIY. I can't wait to try a few more. Maybe a nice light green one for Kennedy's room? A silvery one for the kitchen?
Good thing tables fans are on clearance right now!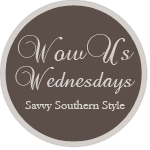 Pin It